RANCANG BANGUN BASIN SILINDER BERPENAMPANG LINGKARAN DENGAN DIAMETER 50 CM PADA GRAVITATION WATER VORTEX POWER PLANT (GWVPP)
Keywords:
GWVPP, Basin Silinder, Debit, Torsi, Daya Listrik
Abstract
Gravitational Water Vortex Power Plant adalah jenis green technology yang termasuk dalam kategori pembangkit listrik tenaga mikrohidro. Basin adalah salah satu komponen yang sangat berpengaruh pada kecepatan aliran vortex. Basin vortex merupakan tabung yang digunakan untuk melihat fenomena vortex yang terjadi pada fluida cair, dengan terjadinya fenomena vortex pada basin yang menggunakan pompa air untuk mengalirkan fluida cair ketabung vortex. Tujuan dari perancangan ini adalah merancang basin silinder dengan diameter 50 cm yang menentukan sistem kerja alat GWVPP agar bisa digunakan untuk mengamati debit air, torsi, daya turbin, dan daya listrik. Alat basin silinder ini dirancang dengan dibuktikan pengambilan data dalam 1 hari selama 5 jam, menghasilkan debit tertinggi 0,82 l/s, torsi tertinggi 0,000024 Nm, daya turbin 0,00081 watt, dan daya listrik 0,87 watt  pada pengujian turbin model L 4 sudu,  sedangkan debit tertinggi 0,90 l/s, torsi tertinggi 0,000036 Nm, daya turbin 0,00096 watt, dan daya listrik 1,95 watt  pada pengujian turbin model S 4 sudu.
References
[1] Fajaruddin Akbar, 2017. "Uji Eksperimental Pengaruh Variasi Pengarah Berbentuk Spiral Basin Cone Terhadap Turbin Reaksi Aliran Vortex". JTM. Vol. 05 (02): hal 159-168..
[2] V. Sihombing, Dkk, 2015. "Pengaruh Variasi Dimensi Sudu dan Luas Saluran Buang Terhadap Prestasi Turbin Vortex". JurnalDinamis. Vol. 03 (02).
[3] Zainudin, Basuki Rahmat, 2017. "Pengujian Alat Uji Vortex Bebas Dan Vortex Paksa". Jurnal Zona Mesin. Vol. 08 (03).
[4] Power C, dkk. 2016. "A Parametric Experimental Investigation of the Operating Conditions of Gravitationel Vortex Hydro power (GVHP)". Journal of Clean Energy Technologies, Vol. 4, No. 2.
[5] S. Dhakal, A. B. Timilsina, R. Dhakal, D. Fuyal, and T. R. Bajracharya, "Comparison of cylindrical and conical basins with optimum position of runner : Gravitational water vortex power plant $," vol. 48, 2015.
[6] Gibran. 2014. "Rancang bangun turbin vortex dengan casing berpenampang lingkaran yang menggunakan sudu diameter 46cm pada 3 variasi jarak antara sudu dan saluran keluar". Medan: USU.
[7] Munson, Bruce, R., Young, Donald, F., Okiishi, Theodore, H. 2006."Fundamentals Of Fluid Mechanics Fifth Edition". Jhon Wiley & Sons Inc.
[8] D. Ewen, N. Schurter, And P. E. Gundersen, Applied Physics 10th Edition, 10th Editi. Amerika Serikat: Prentice Hall, 2012.
[9] Pritchard, P.J. 2011. Fox and McDonald's Introduction to Fluid Mechanics. Eighth Edition. United States of America : John Wiley & Sons, Inc.
[10] Alexander C K. 2009. Fundamentalsof Electric Circuits, Fourth Edition. New York: McGraw-Hill.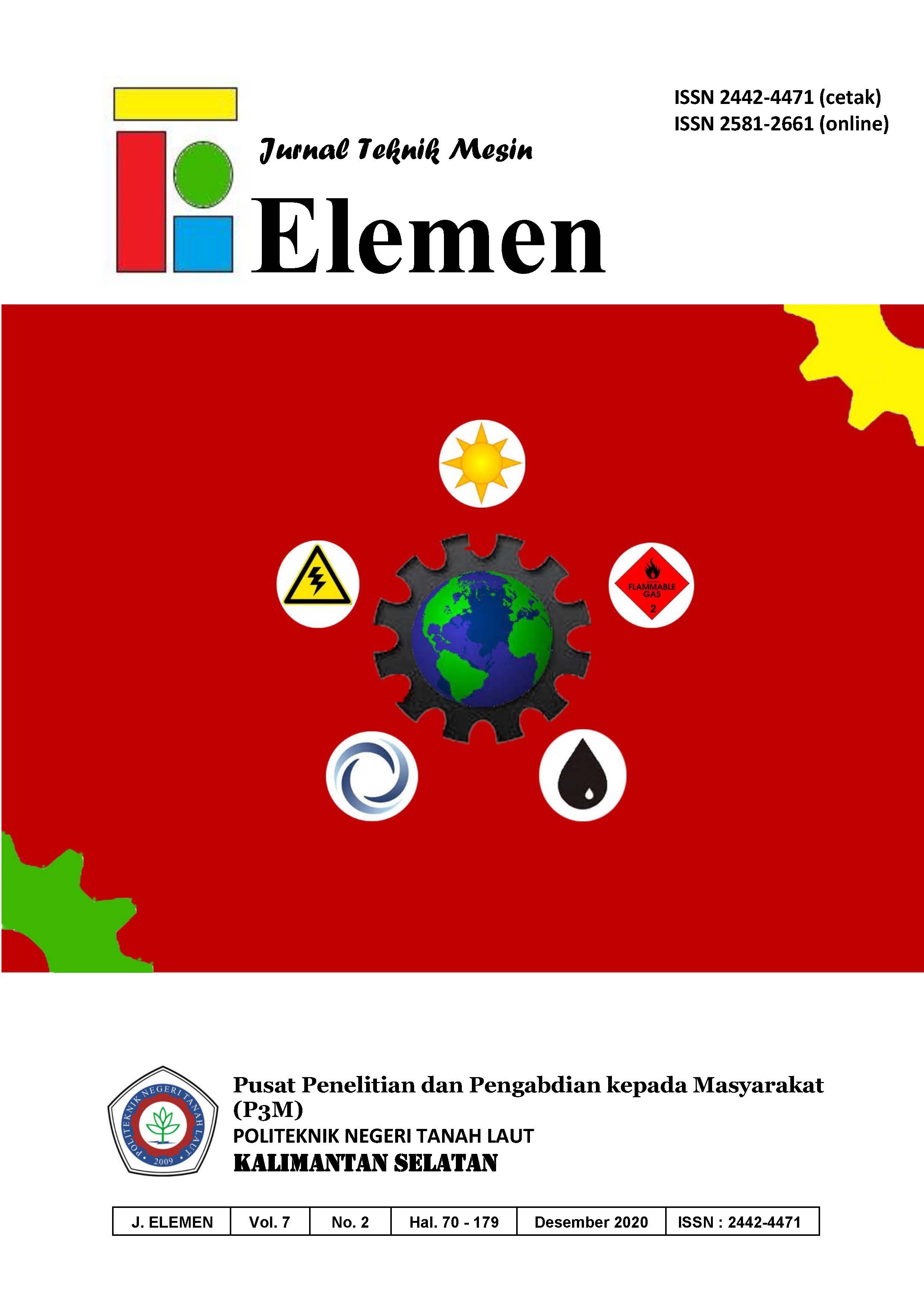 Downloads
How to Cite
Syuhud, M. A., Karyadi, K., Basri, M. H., & Indarto, B. (2020). RANCANG BANGUN BASIN SILINDER BERPENAMPANG LINGKARAN DENGAN DIAMETER 50 CM PADA GRAVITATION WATER VORTEX POWER PLANT (GWVPP). ELEMEN : JURNAL TEKNIK MESIN, 7(2), 078–085. https://doi.org/10.34128/je.v7i2.122