PERANCANGAN GENERATOR 3-PHASE PADA GRAVITATION WATER VORTEX POWER PLANT (GWVPP)
Keywords:
GWVPP, Turbin, Generator
Abstract
Perkembangan teknologi di era globalisasi saat ini berimbas pada peningkatan kebutuhan energi listrik yang sangat besar. Kelangkaan ini menyebabkan adanya pencarian energi alternatif dengan memanfaatkan sumber energi terbarukan seperti pembangkit listrik tenaga vortex (PLTV). Pembuatan pembangkit energi pusaran air (vortex) sebenarnya sangat sederhana dan dapat dilakukan secara mandiri, terutama untuk daya yang kecil. Dalam penelitian ini akan disajikan langkah langkah perancangan dan hasil pengujian  generator 3 phase untuk keperluan pembangkitan listrik Gravitation Water Vortex Power Pland (GWVPP). Pengujian menggunakan variasi  ketinggian turbin dan bentuk tirbin model L dan S. menghasilkan putaran tertinggi 275 rpm dan tegangan tertinggi 1,5 V pada pengujian turbin model L, sedangkan untuk pengujian menggunakan turbin model S dihasilkan putaran tertinggi 526 rpm dan tegangan tertinggi 2,4 V. Untuk arus rata - rata 0,512 ampere dengan menggunakan turbin model L sedangkan arus rata – rata 2,81 ampere menggunakan turbin model S.    
References
[1] Timotius, Chris.MM. dan Sutrisno. 2009. " Perancangan dan Pembuatan Pembangkit Listrik Tenaga Surya". Bandung : Universitas Pendidikan Indonesia.
[2] Jefry Nainggolan, Zulkifli Bahri. 2017. "Designing Tachogenerator From Dynamo Tape Recorder", Journal of Electrical and System Control Engineering. JESCE, Vol. 1(1) Agustus (2017), p-ISSN : 2549-628X e-ISSN : 2549-6298.
[3] Power C, dkk. 2016. "A Parametric Experimental Investigation of the Operating Conditions of Gravitationel Vortex Hydro power (GVHP)". Journal of Clean Energy Technologies, Vol. 4, No. 2.
[4] Young H.D dan Freedman R.A. 2001. Fisika Universitas Edisi Kesepuluh Jilid I. Jakarta : Erlangga.
[5] Zuhal, 1995. Dasar Teknik Tenaga Listrik dan Elektronika Daya. Jakarta : PT Gramedia Pustaka Utama.
[6] Asy'ari, Mockmore C.A., Merryfield Fred. 1949. The Banki Water Turbine. journal Electrical Enginers of Japan, Vol. 121, No.2, pp 119-112.
[7] Fritz Dietzel (1988) " Turbin Pompa Dan Kompresor" Jerman.
[8] Dwiyanto, Very. 2016. Analisis Pembangkit Listrik Tenaga Mikro Hidro (PLTMH). Lampung: Universitas Lampung.
[9] Djuhana.2008 "Pusat Pengembangan Bahan Ajar-UMB". Jurusan Teknik Mesin Universitas Mercubuana.
[10] Alexander C K. 2009. Fundamentalsof Electric Circuits, FourthEdition. New York: McGraw-Hill.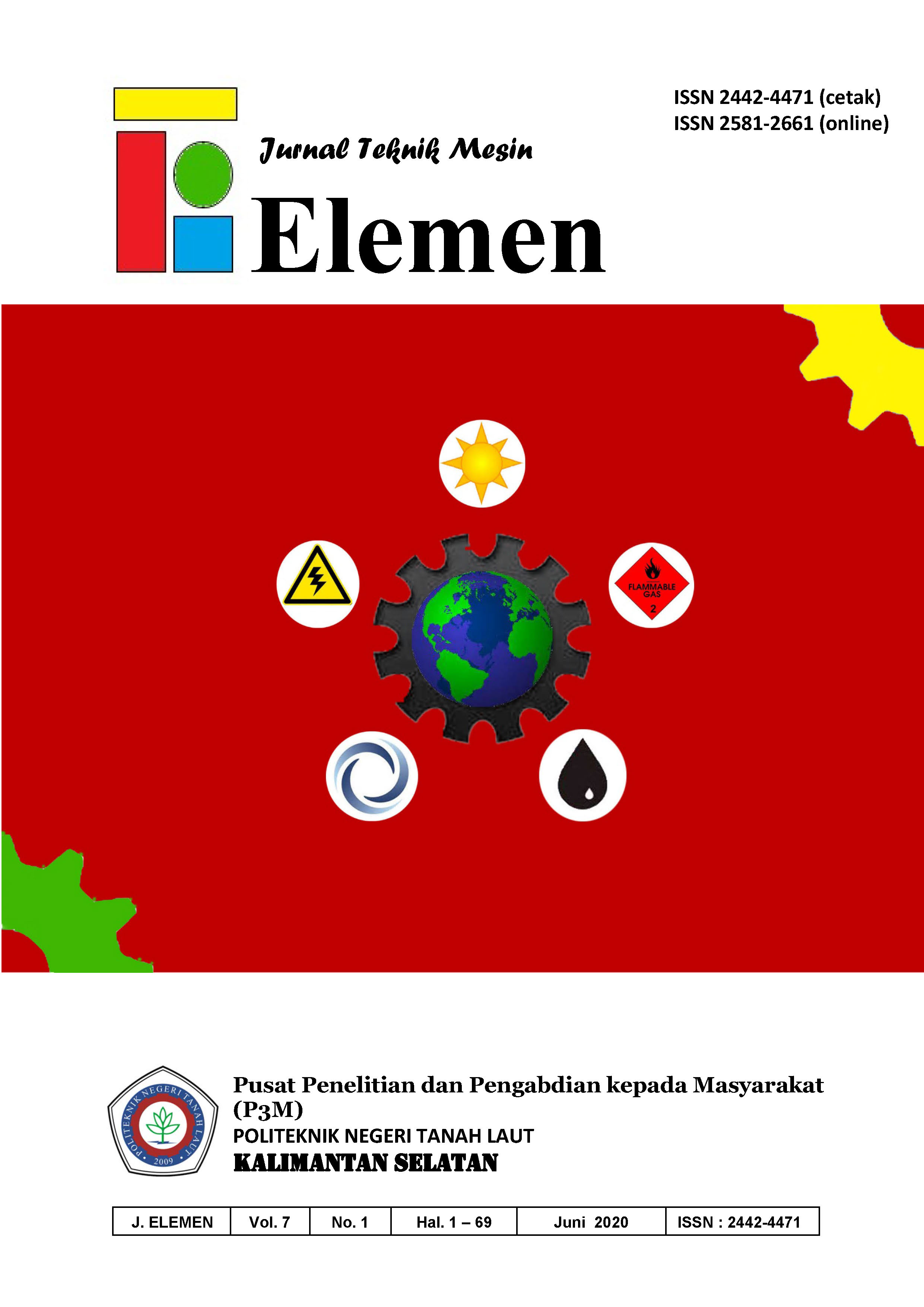 Downloads
How to Cite
Bahrullah, M., Basri, M. H., Herlina, A., & Indarto, B. (2020). PERANCANGAN GENERATOR 3-PHASE PADA GRAVITATION WATER VORTEX POWER PLANT (GWVPP). ELEMEN : JURNAL TEKNIK MESIN, 7(1), 46–53. https://doi.org/10.34128/je.v7i1.119