POTENTIAL ANALYSIS OF HYDRO VORTEX POWER PLANT (PLTHV) IN SAWAH KEMBANG VILLAGE
POTENTIAL ANALYSIS OF HYDRO VORTEX POWER PLANT (PLTHV)
Keywords:
Frequency, Electricity, Renewable Energy, Energy Independent Village, PLTHV
Abstract
Abstract. Electricity is one of the most basic elements of life on earth. Sawah Bunga Hamlet is located in a mountainous area to the south of Probolinggo Regency, which is one of the mountainous hamlets that has not yet received electricity supply from PLN. In this study, a survey was conducted of 16 hydro vortex power plants located in Sawah Kembang Hamlet which will be investigated. Furthermore, the data collection process is rpm, voltage, current, frequency, and electric power by using a formula to produce a theoretical value for each generator. From this research, it was found that 13 power plants were still running and 3 plants were damaged, where the large potential generated by the hydro vortex power plant produced an average frequency of 65.89 Hz with an average of 157.714 watts of electrical power generated at each. each generator. The results of this study indicate that Dusun Sawah Bunga can apply renewable energy to get to an Energy Independent Village as a pilot village.
References
Muhammad Bahrullah, Muhammad Hasan Basri, Amalia Herlina, Bahtera Indarto. "Perancangan Generator 3 Phase Pada Gravitation Water Vortex Power Plant (GWVPP)". ELEMEN Jurnal Teknik Mesin Vol.7 No.1 Juni 2020 ; pp. 46 – 53.
Mochammad Ilham Nafi', Muhammad Hasan Basri, Hilman Saraviyanto Iskawanto, Bachtera Indarto, Alfin Tranggono Agus Salim. " Rancang Bangun Gravitation Water Vortex Power Plant (GWVPP) Berbasis Basin Silinder". Journal of Electrical Electronic Control and Automotive Engineering (JEECAE). JEECAE Vol.5, No.1, Mei 2020.
Tanjung, I. F. et al. "Analisa Performansi Turbin Vortex Menggunakan Perangkat Lunak Cfd Dengan Variasi Dimensi Sudu I Dan Sudu Iii, Debit Air Masuk Serta Luas Saluran Buang," J. Din., vol. 3, no. 4.
Sumantri, F. and M. Fitri. "Perancangan alat uji vortex bebas dan vortex paksa," vol. 8, no. 2. 2017.
Muhammad Hasan Basri, Rahmad Rizky, dkk. "Pemanfaatan Saluran Irigasi Sebagai Pembangkit Listrik Tenaga Air (Vortex) Untuk Daerah Tidak Terdampak Pasokan Listrik PLN". GUYUB: Journal of Community Engagement Vol. 2, No. 1, Januari-April 2021 p-ISSN: 2723-1232; e-ISSN: 2723 1224 DOI: 10.33650/guyub.v2i1.1907.
Nur Indrihastuti, Ahmad Thohirin, Dewi Karsina. "Perencanaan Pengisi Daya Sederhana Memanfaatkan Dinamo Sepeda". Jurnal Cahaya Bagaskara Vol. 4 No.1-Februari 2019.
William D. Cooper. Instrumentasi Elektronika dan Pengukuran Edisi ke-2. Erlangga, Jakarta Pusat 1985.
C. K. Alexander, Fundamentalsof Electric Circuits, Fourth Edition. New York: McGraw-Hill, 2009.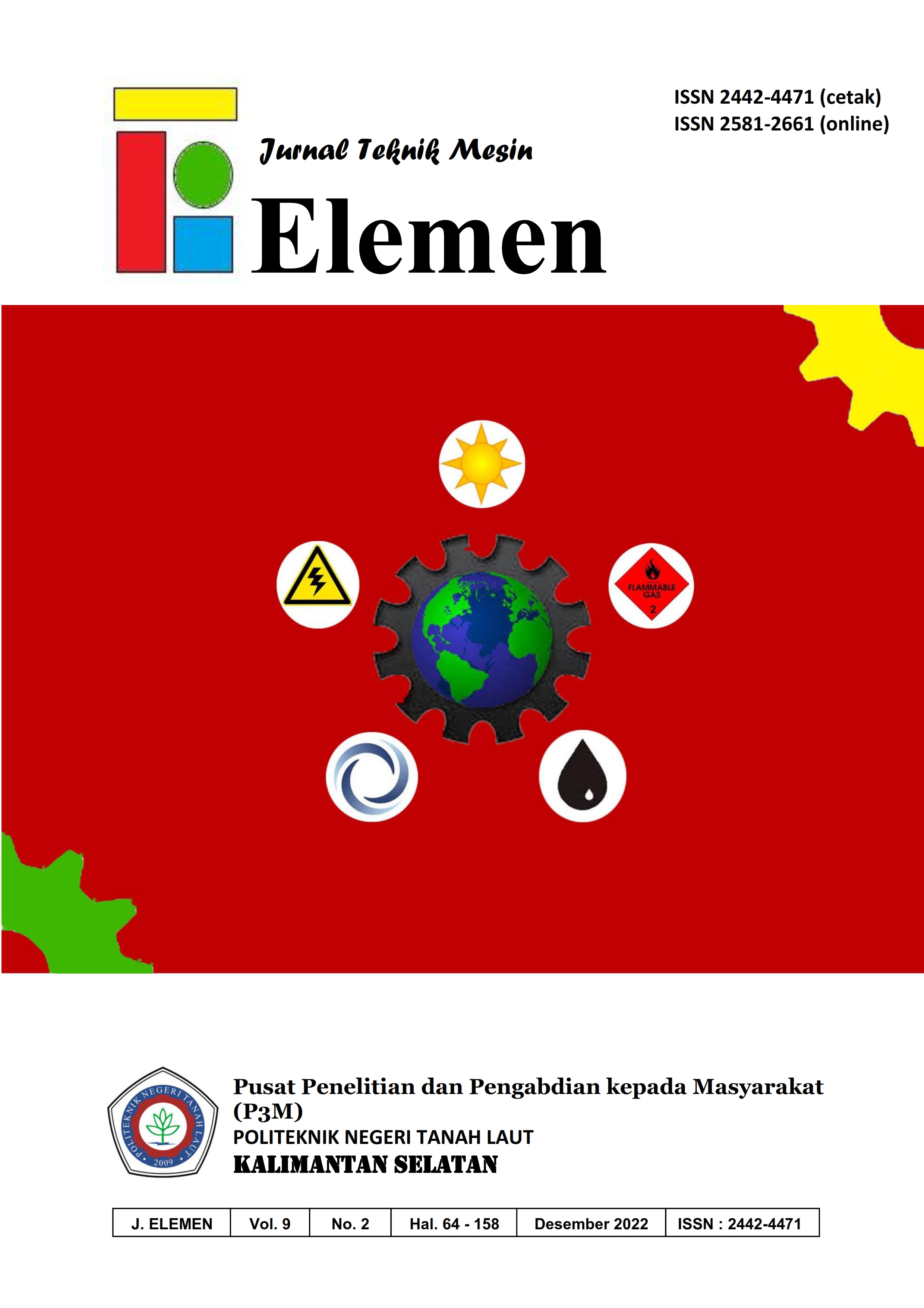 Downloads
How to Cite
Imaduddin, I. R., Fahreza, D. A., Hakim, L., & Maulana, F. R. (2022). POTENTIAL ANALYSIS OF HYDRO VORTEX POWER PLANT (PLTHV) IN SAWAH KEMBANG VILLAGE: POTENTIAL ANALYSIS OF HYDRO VORTEX POWER PLANT (PLTHV). ELEMEN : JURNAL TEKNIK MESIN, 9(2), 110–118. https://doi.org/10.34128/je.v9i2.207
License
Copyright (c) 2022 ELEMEN : JURNAL TEKNIK MESIN
This work is licensed under a Creative Commons Attribution 4.0 International License.