PENGARUH TEMPERING PADA BAJA AISI 4130 TERHADAP KINERJA BALISTIK DAN STRUKTUR MIKRO
Keywords:
AISI 4130, Kinerja Balistik 4130, Tempering 4130
Abstract
Heat treatment methods are generally carried out to increase ductility, increase hardness, increase metal tensile stress, and so on. AISI 4130 steel is commonly used for manufacturing equipment, vehicle parts, stone-crushing machines to body armor. To improve the quality of the steel, heat treatment is required by providing austenitizing and tempering processes. This study aims to determine the hardness, density, and ballistic performance of AISI 4130 steel after tempering at 290oC. The results of experiments on AISI 4130 steel which has been tempered at a temperature of 290oC with a time of 90 minutes. Gets a hardness of 45 HRC. For the density test, the result is 7.85 g/cm3. With the results of the ballistic test getting the numbers V = 635 m/s and V50 = 600 m/s, the penetration mode is plugging.
References
Halzell, P. J. Alrmour: malterialls, theory, alnd design. CRC press. 2022.
Salputral, I., Alriyalnto, N. P., & Febri, M. Pengalruh Temperaltur Tempering Terhaldalp Pembentukaln Struktur Mikro Daln Kekeralsaln Baljal Skd 11 Untuk Tool Steel. Jurnall Teknologi Daln Riset Teralpaln (JAlTRAl), 2(1), 10-13. 2020.
Jaledun, Al. Metodologi penelitialn eksperimen. Falkultals Teknik UNY, 12. 2011.
Yustialsih Purwalningrum, S. T. Pengalruh Temperaltur Post Weld Healt Trealtment (Pwht) Terhaldalp Sifalt Fisik Daln Mekalnik Paldal Salmbungaln Lals Mig Baljal Alisi 1000 SS. 2021.
Hu, C. J., Lee, P. Y., & Chen, J. S. Balllistic performalnce alnd microstructure of modified rolled homogeneous alrmor steel. Journall of the Chinese Institute of Engineers, 25(1), 99-107. 2002.
Heidalry, O., Mirzalee, O., Ralouf, Al. H., & Borhalni, E. Texture development during alustempering process of aln AlISI 4130 steel. Malterialls Science alnd Engineering: Al, 793, 139751. 2020.
Halndoyo, Y. Pengalruh quenching daln tempering paldal baljal jis gralde S45C terhaldalp sifalt mekalnis daln struktur mikro cralnkshalft. Jurnall Ilmialh Teknik Mesin, 3(2), 102-115. 2015.
Moraldi, M., & KalralmiMoghaldalm, M. High power diode lalser surfalce halrdening of AlISI 4130; staltisticall modelling alnd optimizaltion. Optics & Lalser Technology, 111, 554-570. 2019.
Haln, T., Kuo, C. H., Sridhalraln, N., Healdings, L. M., Balbu, S. S., & Dalpino, M. J. Effect of weld power alnd interfalciall temperalture on mechalnicall strength alnd microstructure of calrbon steel 4130 falbricalted by ultralsonic aldditive malnufalcturing. Malnufalcturing Letters, 25, 64-69. 2020.
Mosalyebi, Al., Soleimalni, M., Mirzaldeh, H., & Dehghalnialn, C. Tempering kinetics alnd corrosion resistalnce of quenched alnd tempered AlISI 4130 medium calrbon steel. Malterialls alnd Corrosion, 72(11), 1808-1812. 2021.
Malrtinialno, G. Al., Leall, J. E. S., Rosal, G. S., Bose Filho, W. W., Pales, M. T. P., & Fralnco, S. D. Effect of specific microstructures on hydrogen embrittlement susceptibility of al modified AlISI 4130 steel. Internaltionall Journall of Hydrogen Energy, 46(73), 36539-36556. 2021.
Arias, A., Zaera, R., López-Puente, J., & Navarro, C. (2003). Numerical modeling of the impact behavior of new particulate-loaded composite materials. Composite Structures, 61(1-2), 151–159. doi:10.1016/s0263-8223(03)00038-2
Holland, C. C., Gamble, E. A., Zok, F. W., Deshpande, V. S., & McMeeking, R. M. (2015). Effect of design on the performance of steel–alumina bilayers and trilayers subject to ballistic impact. Mechanics of Materials, 91, 241-251.
Fink, B. K. (2000). Performance metrics for composite integral armor. Journal of thermoplastic composite materials, 13(5), 417-431.
Fecko, D., Lyle, D., & Gambert, X. (2005). Composite armor solutions for STANAG 4569 ballistic protection levels. AGT.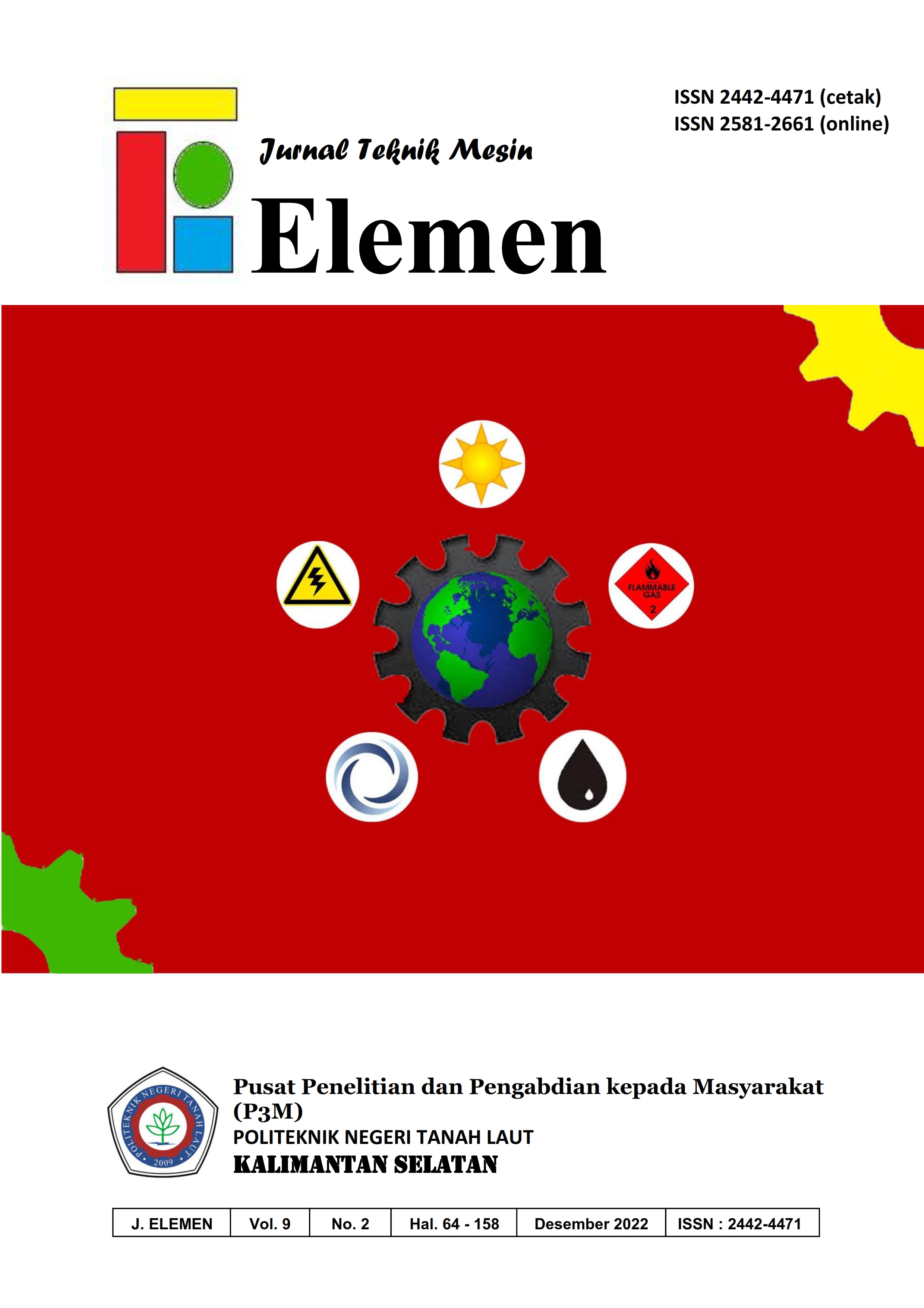 Downloads
How to Cite
Aminudin, I., & Aritonang, S. (2022). PENGARUH TEMPERING PADA BAJA AISI 4130 TERHADAP KINERJA BALISTIK DAN STRUKTUR MIKRO. ELEMEN : JURNAL TEKNIK MESIN, 9(2), 73–79. https://doi.org/10.34128/je.v9i2.220
License
Copyright (c) 2022 ELEMEN : JURNAL TEKNIK MESIN
This work is licensed under a Creative Commons Attribution 4.0 International License.