MATERIAL POLIMER KOMPOSIT TAHAN BALISTIK UNTUK APLIKASI HELM MILITER DALAM MENDUKUNG MATERIAL PERTAHANAN INDONESIA
Keywords:
komposit, polimer, helm militer , kecepatan peluru
Abstract
Polymer composites are widely used in military applications. In this instance, to shed light on polymer composites and their uses in the field of defense, particularly ballistic ones. Military vests, personnel helmets, and other items that need to be made of ballistic-resistant materials but are still lightweight and reasonably priced, fall into three general categories. When it comes to enhancing the mobility of military forces, composite materials have outperformed metal materials in military applications. Given the speed of approaching bullets, it is crucial that military helmets contain composite materials, one of which is constructed of thermoplastic polymers and thermosets. Utilizing a bullet and a new polymer composite (UHMWPE) with a weight of 1000 g one suitable material for use in military bulletproof helmets is one with a speed of 600 m/s.
References
Campbell DT, Cramer DR. Hybrid thermoplastic composite ballistic helmet fabrication study. Glenwood Springs: Fiberforge Corporation. 2008
H. Van Der Werff et al., "New Developments of the Dyneema ® Ultra High Molecular Weight Polyethylene Fiber," Proc. Int. Symp. Fiber Sci. Technol., no. January, pp. 1–3, 2014.
P. Singh, D. Pramanik, and R. V. Singh, "Finite element analysis of pilot's helmet design using composite materials for military aircraft," J. Aerosp. Technol. Manag., vol. 8, no. 1, pp. 33–39, 2016, doi: 10.5028/jatm.v8i1.559.
D. H. Akbar, "PROSES TERMOSET dan TERMOPLASTIK," pp. 1–15, 2013.
Chawla KK. Composite materials: science and engineering. New York: Spinger-Verlag. 1998.
Othman RB. Finite element analysis of composite ballist helmet subjected to high velocity impact (Master's thesis). Penang: Universiti Sains Malaysia. 2009.
Song JW., Egglestone GT. Proceedings for US Army Science Conference. Proceedings for US Army Science Conference. June, 1988.
H. van der Werff, U. Heisserer, S.L. Phoenix, Numerical modelling of ballistic impact on fiber composites, Personal Armour Systems Symposium, Quebec, 13-19 September 2010.
P.M. Cunniff, Dimensional parameter for optimization of textile-based armor systems, Proceeding of the 18th Int. Symp. Ballistics, San Antonio (Tx), 1303. 1990.
F. Arifurrahman, "Review Penggunaan Komposit Serat Fiber pada Uji Balistik untuk Peralatan Pelindung Personel Fibre Composite Research on Ballistic Testing for Personal Protective Equipment," vol. 01, no. 1, pp. 15–19, 2018.
Ashok Bhatnagar. Lightweight Ballistic Composites Military and Law-Enforcement Application. Woodhead Publishing is an imprint of Elsevier.2016.
Piggott MR. Load bearing fibre composites. Oxford: Pergamon Press. 1980.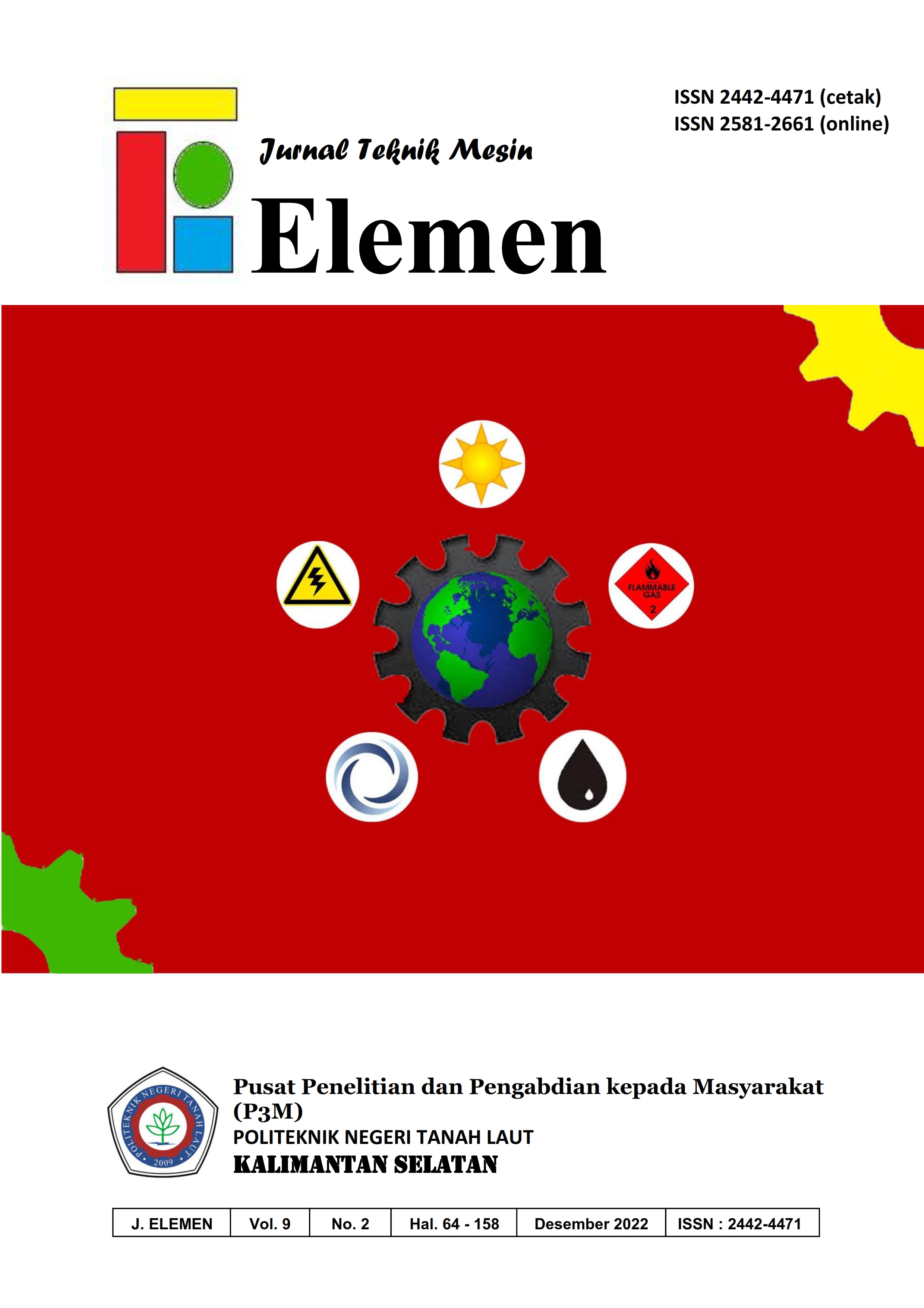 Downloads
How to Cite
Mrp, M., & Aritonang, S. (2022). MATERIAL POLIMER KOMPOSIT TAHAN BALISTIK UNTUK APLIKASI HELM MILITER DALAM MENDUKUNG MATERIAL PERTAHANAN INDONESIA. ELEMEN : JURNAL TEKNIK MESIN, 9(2), 105–109. https://doi.org/10.34128/je.v9i2.219
License
Copyright (c) 2022 ELEMEN : JURNAL TEKNIK MESIN
This work is licensed under a Creative Commons Attribution 4.0 International License.