PERANCANGAN ALAT UJI DAYA TAHAN TIMBANGAN BERKAPASITAS 100 KG DI DIREKTORAT METROLOGI BANDUNG
Keywords:
Timbangan, perancangan, alat uji, beban
Abstract
Timbangan adalah alat untuk mengukur massa suatu benda. Timbangan yang di produksi di dalam maupun di luar negeri perlu dilakukan kalibrasi dan pengujian lanjut agar dinyatakan layak beredar di pasar Indonesia. Pengujian ini berupa pemberian beban berulang dengan besar beban setengah dari kapasitas timbangan. Pengujian dilakukan oleh Direktorat Metrologi Bandung sebagai instansi yang pemberi izin edar alat ukur. Perancangan alat uji daya tahan (endurance) dibutuhkan untuk mensimulasikan timbangan ditekan dengan beban berulang, seolah untuk menguji kualitas penggunaan timbangan dalam jangka panjang. Hal ini dilakukan untuk menguji keakuratan dalam memunculkan nilai pengukuran massa. Perancangan alat uji daya tahan timbangan menggunakan mekanisme penekanan dari atas ke bawah secara vertikal sebanyak 100.000 kali. Tujuan akhir pengujian adalah melihat keakuratan dari pembacaan nilai massa pada timbangan, sebelum dan sesudah dilakukan uji daya tahan. Perancangan alat uji ini mementingkan aspek dan parameter yang sudah ditentukan oleh standar metrologi, serta diharapkan pengujian dapat dilakukan untuk beberapa jenis timbangan dengan ukuran yang bermacam-macam, sehingga dapat meloloskan timbangan untuk akan diperjual-belikan..
Kata Kunci : Timbangan, Perancangan, Alat uji, Beban
References
ATMAJAYA, D., KURNIATI, N., ASTUTI, W., SALIM, Y. & HARIS, A. Digital Scales System on Non Organic Waste Types Based on Load Cell and ESP32. 2018 2nd East Indonesia Conference on Computer and Information Technology (EIConCIT), 2018. IEEE, 1-4.
CHOLEWICKI, J. & WOLF, S. W. J. T. J. O. H. S. 1998. Unit of measurement: newton (N) versus kilogram force (kgf). 23, 952-952.
G, P., W, B., J, F. & K.H, G. 2007. Engineering Design. 3. No Komponen Perawatan 1 Pneumatik Pengecekan dan diberi pelumas 2 Linear guide rail Diberi pelumas 3 Screw jack Diberi pelumas4 Linear guide shaft Dibersihkan dan diberi Pelumas
KRIVTS, I. L. & KREJNIN, G. V. 2016. Pneumatic Actuating Systems for automatic equipment: structure and design, Crc Press.
LIN, S., GUO, G. & YAO, J. A combine calibration method for total weighing-in-motion systems based on load-meter according to OIML R76-1 and R134-1. Journal of Physics: Conference Series, 2018. IOP Publishing, 042040.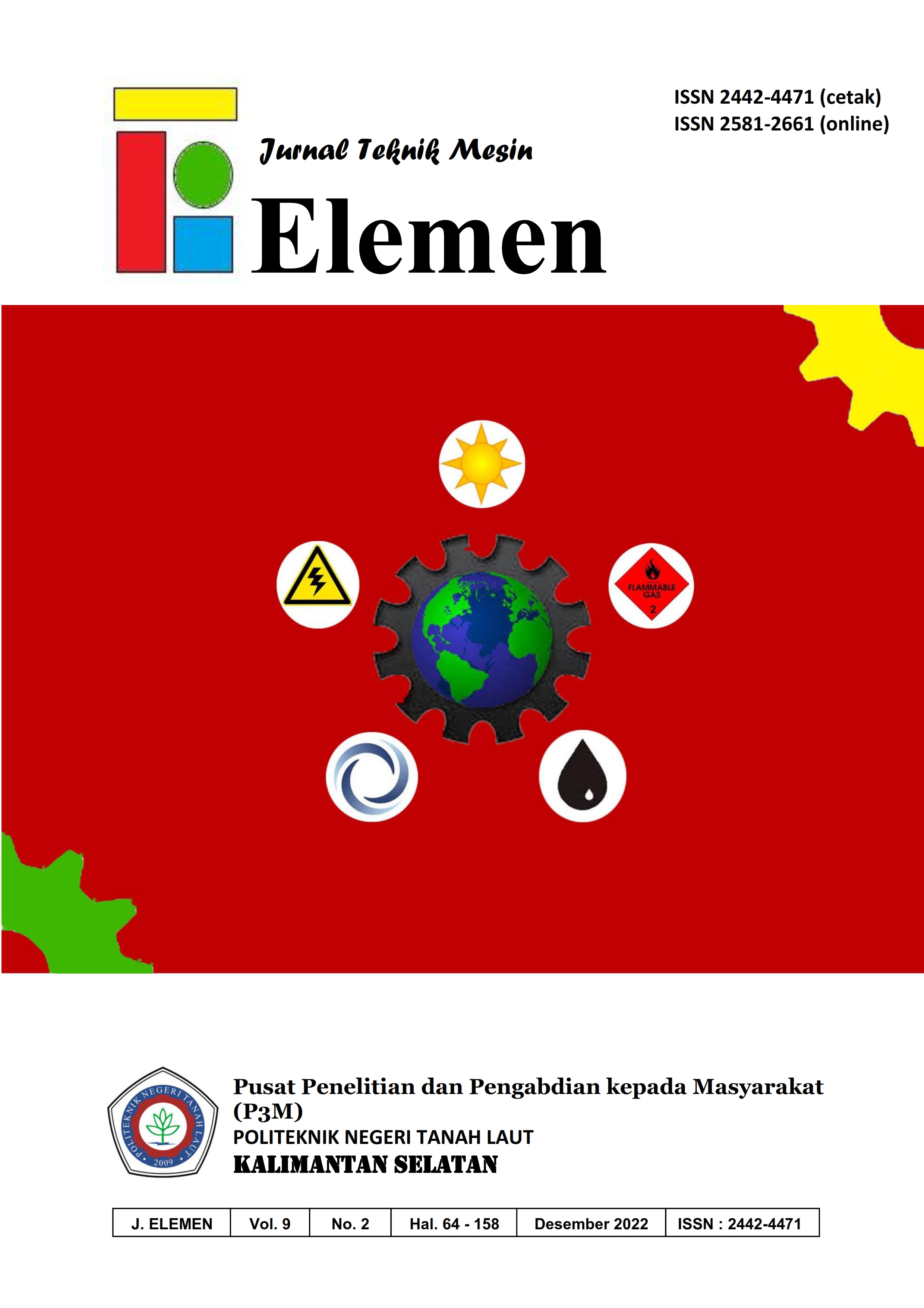 Downloads
Published
2022-12-30 — Updated on 2023-02-10
How to Cite
Mirza, A. S., & Pamungkas, A. (2023). PERANCANGAN ALAT UJI DAYA TAHAN TIMBANGAN BERKAPASITAS 100 KG DI DIREKTORAT METROLOGI BANDUNG. ELEMEN : JURNAL TEKNIK MESIN, 9(2), 149–158. https://doi.org/10.34128/je.v9i2.194 (Original work published December 30, 2022)
License
Copyright (c) 2022 ELEMEN : JURNAL TEKNIK MESIN
This work is licensed under a Creative Commons Attribution 4.0 International License.