PENGEMBANGAN REAKTOR PIROLISIS TERMAL LIMBAH PLASTIK SKALA LABORATORIUM
Keywords:
degradasi termal, limbah plastik, pemanas LPG, tungku
Abstract
Plastic waste damages the environment because it is not easily broken down by nature. It needs special processing of plastic waste but still does not cause environmental pollution. Thermal degradation technology is able to degrade plastic waste and turn it into useful alternative fuels. The results of this processing technology are liquid, gas and solid products. The tools used in this treatment are LPG heaters, thermal degradation furnaces and water-cooled condensers. The design capacity of this tool is 4 kg of plastic waste for one production with an operating temperature of ± 300 ° C with a processing duration of ± 120 minutes. The demand for LPG as heating is planned at ± 0.23 - 2.7 kg / hour. The materials are made of steel plates with a 3 mm thickness . The dimensions of the condenser pipe are designed to be ± 0.9 m long with a planned intake water temperature of 25 ° C.
References
[1] A. Mokhtar, J. Moh and H. Supriyanto, "Perancangan Pirolisis untuk Membuat Bahan Bakar Cair dari Limbah Plastik Kapasitas 10 kg," in Seminar Nasional Teknologi dan Rekayasa (SENTRA) , 2018.
[2] P. B. W. Wardhana and H. Saptoadi, "Konversi Limbah Plastik Polieilen menjadi Bahan Bakar dengan Metode Pirolisis," DISPROTEK, pp. 1-4, 2016.
[3] R. C. Putra, "Perancangan Bejana Tekan Kapasitas 5 m3 dengan Tekanan Desain 10 bar Berdasarkan Standar ASME Section 2007 VIII DIV 1," Jurnal Teknik Mesin Universitas Muhammadiyah Tangerang, 2017.
[4] ASME, IV Boiler & Pressure Vessel Codes - (Rules for Construction of Heating Boilers), New York: ASME, 2013.
[5] J. Purba, "Perancangan Boiler Pipa Api untuk Perebusan Bubur Kedelai pada Industri Tahu Kapasitas Uap Jenuh 160 kg/jam," Jurnal Mahasiswa Teknik Universitas Pasir Pengaraian, 2016.
[6] F. P. Incropera, D. P. Dewit, T. L. Bergman and A. S. Lavine, Introduction of Heat Transfer 7th Edition, New York: John Wiley & Sons, 2011.
[7] F. A. P. A. Gabe, "Analisa Termal pada Rancang Bangun Reaktor Pirolisis untuk Memproduksi Bahan Bakar Minyak dari Limbah Plastik," Departemen Teknik Mesin dan Biosistem Fakultas Teknologi Pertanian Institut Pertanian Bogor, Bogor, 2015.
[8] Y. A. Cengel and J. M. Cimbala, Fluid Mechanics : Fundamentals and Applications, New York: McGraw Hill, 2006.
[9] F. Naufan, "Desain Alat Pirolisis untuk Mengkonversi Limbah Plastik HDPE menjadi Bahan Bakar," Departemen Teknik Mesin dan Biosistem Fakultas Teknologi Pertanian Institut Pertanian Bogor, Bogor, 2016.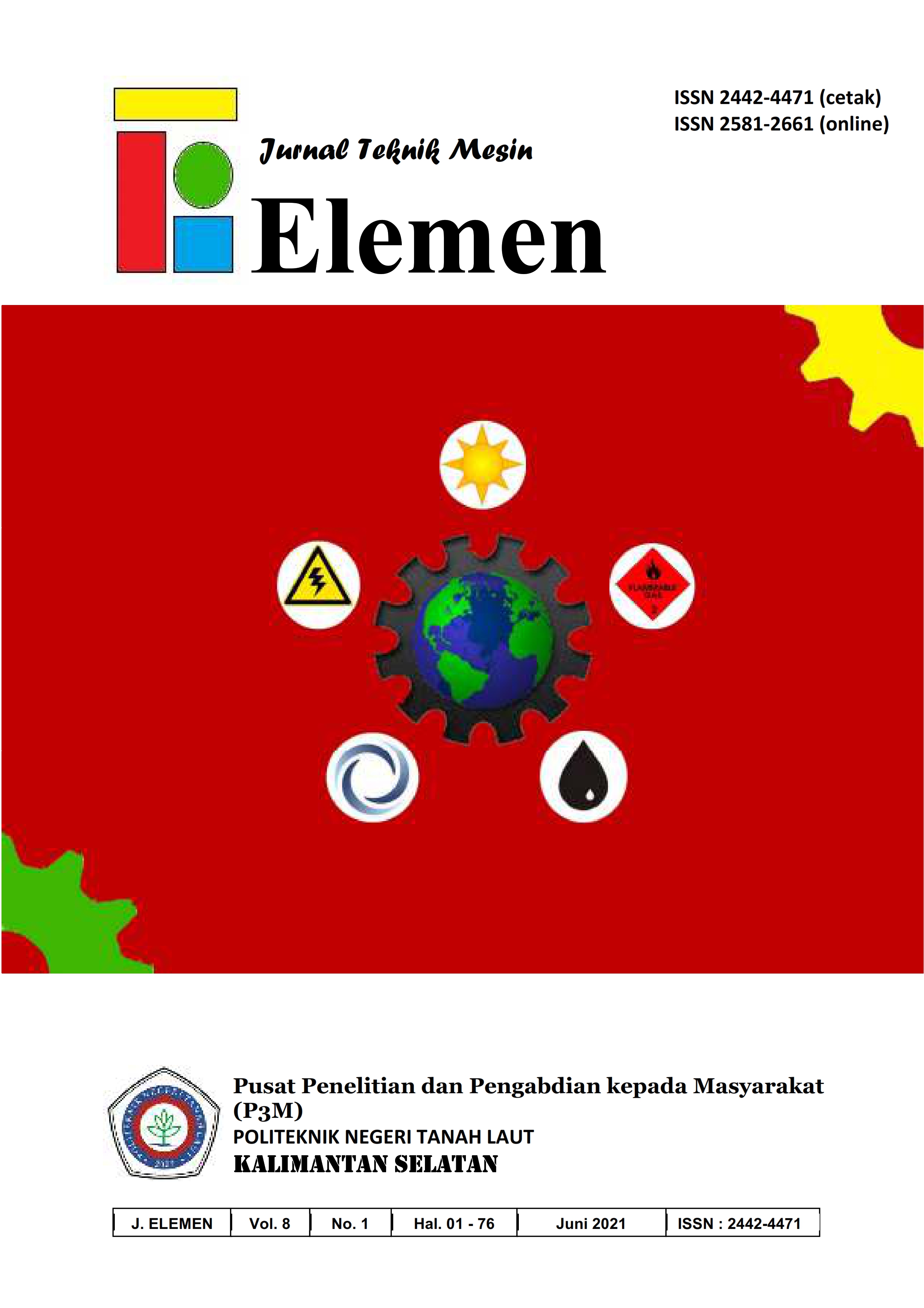 Downloads
How to Cite
Wisnu Wardhana, P. B., Finali, A., & Hanafi, A. F. (2021). PENGEMBANGAN REAKTOR PIROLISIS TERMAL LIMBAH PLASTIK SKALA LABORATORIUM. ELEMEN : JURNAL TEKNIK MESIN, 8(1), 39–44. https://doi.org/10.34128/je.v8i1.144