ANALISIS PERPINDAHAN PANAS TUNGKU KRUSIBEL PELEBURAN ALUMINIUM PADA LABORATORIUM
Keywords:
Mangrove Charcoal, Aluminum, Heat, Crucibel Furnace
Abstract
Heat transfer plays an important role in the metal smelting process, so it is important for analysis to be carried out. This study aims to analyze heat transfer in a charcoal-fueled crucible furnace equipped with a blower in the mechanical engineering laboratory, Dayanu Ikhsanuddin University. The experimental method in this study was carried out at a furnace crucible burned with mangrove charcoal and equipped with a blower as a channel to circulate air through a 2-inch tube. Based on the results of the study, the heat from mangrove charcoal fuel is 37985.364kJ, the heat of smelting of aluminum is 1635.24kJ, and the heat absorbed by the walls and cover of the furnace is 29152.76kJ. The heat escaping through the cover, chimney, and other losses is 7197.37 kJ. The efficiency of the charcoal-fueled crucible furnace is 81.05%.
References
A. Aminur et al., "Rancang bangun dan uji coba tungku krusibel dari tabung gas bekas dengan menggunakan sumber panas gas LPG," JTT (Jurnal Teknologi Terapan), vol. 6, no. 2, pp. 118-124, September 2020.
A. Leman, Tiwan, and Mujiyono. "Tungku krusibel dengan economizer untuk praktik pengecoran di jurusan pendidikan teknik mesin FT UNY," Jurnal Dinamika Vokasional Teknik Mesin, vol. 2, no. 1, pp. 21-27, April 2017.
Amir, Y. Sushendi, and A. Budiman, "Proses pembuatan tungku krusibel dan peleburan aluminium 2 kg/jam menggunakan bahan bakar gas LPG," Prosiding KITT (Konferensi Ilmiah Teknologi Texmaco), vol. 1, pp. 256–260, 2018.
S.S. Prathama, and R. Trisno, "Analisa nilai kalor dan laju pembakaran pelet kayu akasia sebagai bahan bakar alternatif pada tungku pembakaran," Prosiding SEMRESTEK (Seminar Rekayasa Teknologi), pp. 17-21, November 2021
T. Wahyudi, S. Arief, and Rendi, "Analisis tungku pelebur aluminium menggunakan bahan bakar arang dan gas," E-Print Repository Universitas Islam Kalimantar, 2019.
A. Rachmat, end M. Sulaeman, "Pembuatan tungku peleburan alumunium dengan pemanfaatan limbah tempurung kelapa sebagai bahan bakar". Jurnal J-Ensitec, vol. 07, no. 01, pp. 491–499, November 2020.
D. L. Zariatin, I. Ismail, and M. Jaya, "Studi eksperimental efisiensi peleburan aluminium pada tungku crucible," JTERA (Jurnal Teknol. Rekayasa), vol. 4, no. 2, pp. 209-218, Desember 2019.
J.P. Holman, and E. Jasjfi, "Perpindahan Kalor", 6th.ed, Jakarta, Erlangga, 1994.
R.A. Koestoer, "Perpindahan Kalor untuk Mahasiswa Teknik", 1th.ed, Jakarta, Salemba Teknika, 2002.
A. Wiyono, D. Riatna, and I. Nurkholis, "Studi eksperimen efisiensi tungku peleburan alumunium dengan briket tempurung kelapa melalui force convection," Prosiding KITT (Konferensi Ilmiah Teknologi Texmaco) vol. 1, pp. 289–296, 2018.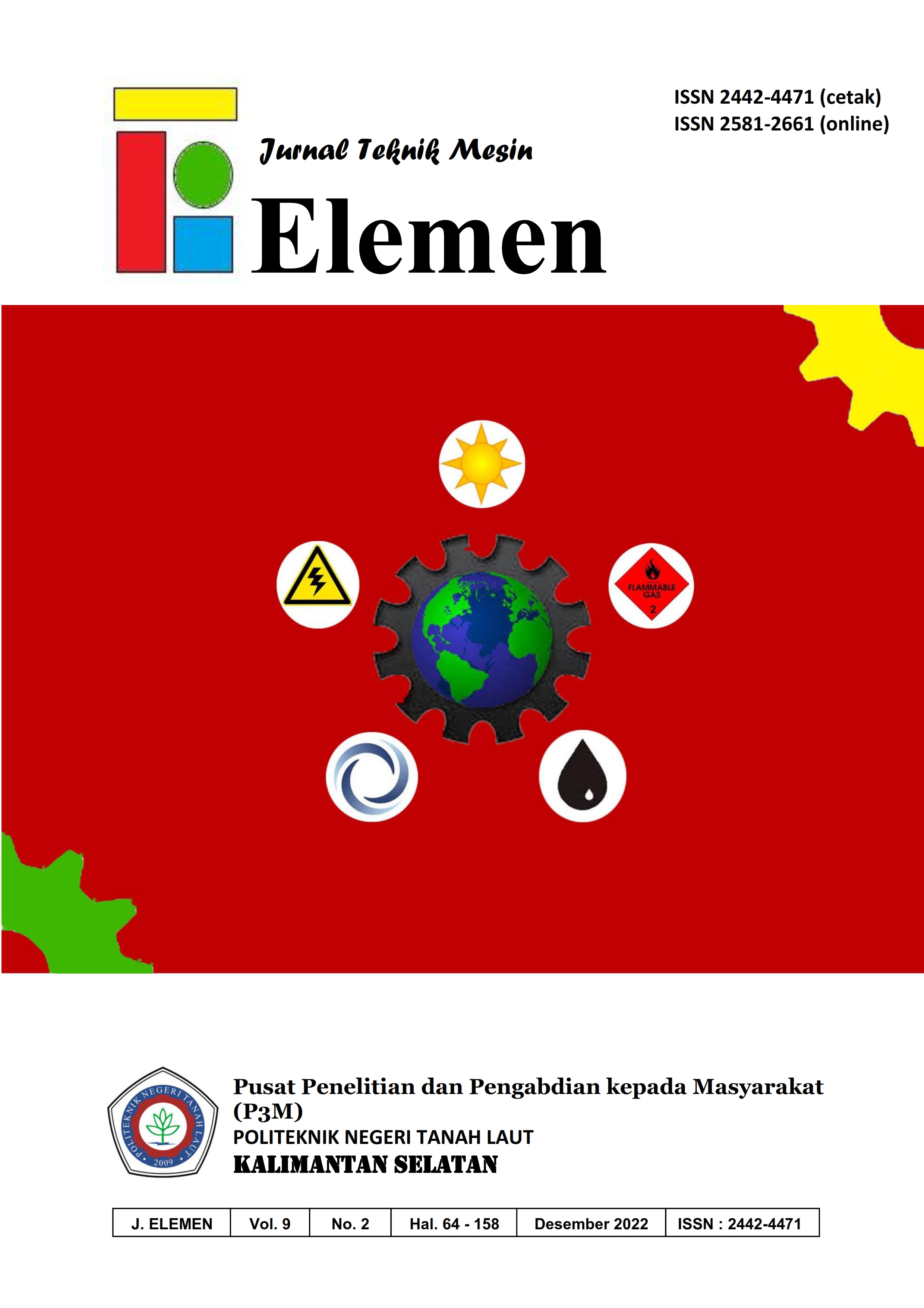 Downloads
How to Cite
La Baride, Muhamad Iqbal Achmad, La Andika, & Noor Dhani. (2022). ANALISIS PERPINDAHAN PANAS TUNGKU KRUSIBEL PELEBURAN ALUMINIUM PADA LABORATORIUM. ELEMEN : JURNAL TEKNIK MESIN, 9(2), 119–125. https://doi.org/10.34128/je.v9i2.214
License
Copyright (c) 2022 ELEMEN : JURNAL TEKNIK MESIN
This work is licensed under a Creative Commons Attribution 4.0 International License.