PRIORITY ANALYSIS OF INTEREST IN THE DETERMINATION OF WEAPONS SYSTEM IN PTTA MALE
Keywords:
UAV, MALE weapon system, QFD, Performance, PTTA
Abstract
The weapon system's modernization is expected to anticipate a very conditional and fluctuating defense situation. One is developing Medium Altitude Long Endurance Unmanned Aircraft (PTTA MALE) vehicles by completing weapons systems to strengthen the national defense system. This study analyzes the technical specifications of weapons systems that meet user needs at PTTA MALE. This study uses qualitative and quantitative methods with research analysis using a Quality Function Deployment (QFD) approach. The analysis is carried out based on the priority scale value reference from the technical specifications of the user requirements. The research results obtained priority scale of operational requirements and technical specifications of weapons systems based on Benchmark Performance (BP) values, namely weapon load (84.31%), warheads (80.39%), guidance systems (68.63%), sensors ( 68.63%), target distance (68.63%), based on independence (63.40%), target type (63.40%), and explosion range (49.02%).
References
Rachmat. A.N, "Tantangan dan Peluang Perkembangan Teknologi Pertahanan Global Bagi Pembangunan Kekuatan Pertahanan Indonesia," Jurnal Tranformasi global, Universitas Jendral Achmad Yani.
Kemhan_RI, Buku Putih Pertahanan Indonesia 2015. 2015.
Noor. Firdaus, "Historiografi drone: Dari militer hingga sinema," Jurnal Unpad, ProTVF, Volume 4, No. 2, hlm. 185-205, 2020.
Jemadu. Liberty, "Spesifikasi Elang Hitam, Drone Militer Pertama Buatan Indonesia," 2019.
https://www.suara.com/tekno/2019/12/30/211120/spesifikasi-elang-hitam-drone-militer-pertama-buatan-indonesia?page=all (accessed Jun. 12, 2020).
Jervis. R, "Deterrence and Perception," The MIT Press, Vol. 7, No. 3, 1983.
C. R. Lavers, "Design in Engineering : An Evaluation of Civillian and Military Unmanned Aerial Vehicle Platforms," University of Plymouth, ResearchGate, 2021. https://www.researchgate.net/publication/356264510 (accessed Apr. 16, 2022).
Cohen. L, "Quality Function Deployment : How to Make QFD Work for You," Boston : Addison-Wesley Publishing Company, 1995.
Sugiyono, "Metode Penelitian: Kuantitatif, Kualitatif, dan R&D," Bandung: Alfabet, 2018.
Zwijnenburg. W, "Global Ambitions for Armed Drones," PAX, 2017.
https://www.paxvoorvrede.nl/media/files/global-ambitions-for-armed-drones-pax-policy-brief.pdf. (accessed Oct. 21, 2021)
Amperiawan. Gita, "Drone MALE Siap Menjaga Wilayah Indonesia," Inovesia. Triwulan I Tahun 2020, 2020.
Wang. Q and Jeppsson. T, "A bibliometric strategy for identifying benchmark research units," In 18th International Conference on Scientometrics & Informetrics, pp. 1229–1234, 2021.
I. N. Azizah, R. Lestari, dan H. H. Purba, "Penerapan Metode Quality Function Deployment dalam
Memenuhi Kepuasan Konsumen pada Industri Komponen Otomotif," Jurnal Teknik Industri, Vol. 19, No. 2, Agustus 2018, pp. 127-136, 2018, doi:10.22219/JTIUMM.Vol19.No2.127-136.
Santoso. C. H, "Perencanaan Quality Function Deployment (QFD) Pada Hotel Everbright Surabaya," Jurnal Hospitality dan Manajemen Jasa, Universitas Kristen Petra, vol. 2 no. 2, 2014.
M. Jacewicz, R. Głebocki, and A. Szklarski, "Miniature Bomb Concept For Unmanned Aerial Vehicles," Archive of Mechanical Engineering, vol. LXV, no. 3, 2018, doi: 10.24425/124488.
J. P. Yaacoub, H. Noura, O. Salman, and A. Chehab, "Security analysis of drones systems: Attacks, limitations, and recommendations," Internet of Things 11, 100218, Elsevier, 2020, doi:10.1016/j.iot.2020.100218.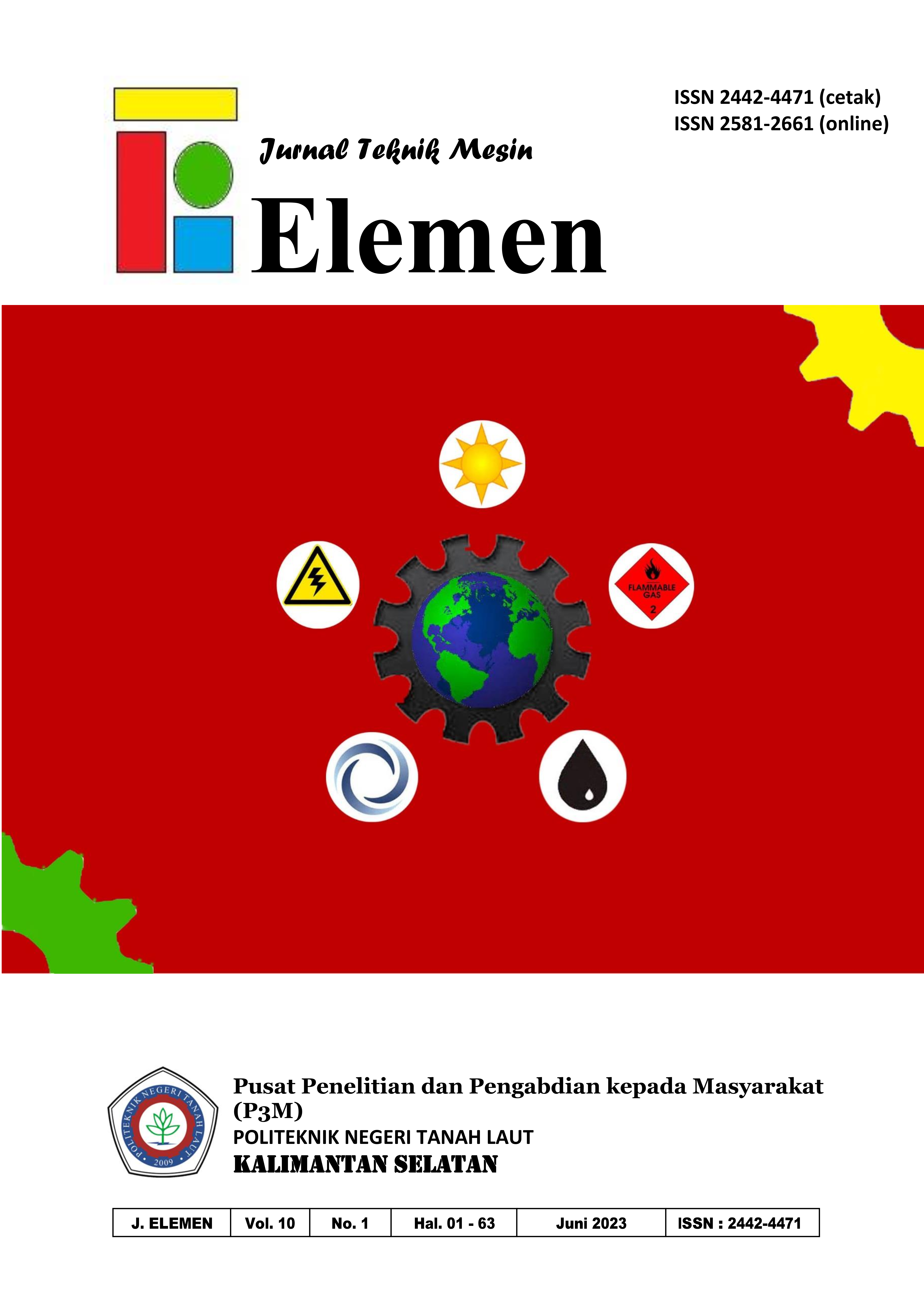 Downloads
How to Cite
zaldi, zaldiansyah, Yogaswara, Y., & Ruyat, Y. (2023). PRIORITY ANALYSIS OF INTEREST IN THE DETERMINATION OF WEAPONS SYSTEM IN PTTA MALE. ELEMEN : JURNAL TEKNIK MESIN, 10(1), 40–46. https://doi.org/10.34128/je.v10i1.229
License
Copyright (c) 2023 ELEMEN : JURNAL TEKNIK MESIN
This work is licensed under a Creative Commons Attribution 4.0 International License.